Vincent Berquez


Our Garden

She and I stagger in our thoughts Ė 
thinking thoughts without fight-time,
feeling the power of our emotions in them.

We affirm each other and move obstacles,
all invisible obstacles shifted away serenely.

She is established and sleeps when I am awake.

Our bed is warmth, a flower of warmth.  The petals
have wandered often but now are still and at ease.

She is in my garden growing strong roots. 
I think I am her soil sometimes, but she is slowly
radiating me and I am being cultivated peacefully.

We cast no hard shadows in each otherís sun.


© 2008 Vincent Berquez



Porcelain

You wait for me patiently
for my events to happen
for my heart to meet yours. 

Sliding fingers into fingers
we canter through the busy city

I brush you off gently - 
like dusting precious porcelain. 

I still want the proposal offered 
but slowly, in measured footsteps, 
in calm, tame light, 
within my heartís capacity.  

You wait patiently. 

Seeds will be sown as plants push 

through the soil, appearing like a miracle.

Porcelain flowers you and I.


© 2008 Vincent Berquez



Dancing into The Cream of The Night

You said take me dancing
in the cream of the night

like we did that time
when the music was jasper Spanish.

The seated flamenco women clapped
out the velocity of chattering rhythms

pushing the black and scarlet music
to the edge of our half-conscious world,

exciting the bloody pump with the drum 
of temptation that agitated our lustiness.

The partnership of limbs tangled
loquacious, heady, demanding. 

We took to the slippery dance floor
where I held the spine of your wet skin

in the stretch of my flexed palm Ė 
you said your heart needed to dance with me 

until the silver slit cracked into the shock
of the smoky grey marbled morning.  

In charged anarchy we succumbed
to fog drunkenly and lost ourselves till then.


© 2008 Vincent Berquez



Bombing the Plain English Society

I shall keep you here in the electrons of my mind,
the swirling passages of these unending nerve ends.
I will be the bristling brush on the flesh of a rapid red fox,
the squaring of roots drowning in complex mathematics,
the astro-lunacy of a blinking boffinís crazed chalk jottings
scratched frantically on a worn-out university blackboard.

I would be a Fascist treading in the shine of marching jackboots
towards the blinding zealous pursuit of your affections,
the deepest diver plunging for shellfish in dangerous waters,
the oxygen breathing spaceman sucked into the inky darkness
of twinkling night in the want of the unknown knowledge of you.  

I shall be the unfettered wild horse galloping far and wide
towards you, towards the savage and the need beyond exhaustion.  

I would bomb the plain English Society in search of obscure words
to cover you, plundering rich language I would describe abundantly.

I would forfeit rich chocolate and red wine to taste you instead,
sleep on stones of fire nightly for a chance to lie next to you,
with my flame burning brightly I will illuminate you in my heat.  


© 2008 Vincent Berquez



NOTE: All artwork by Vincent Berquez. From top to bottom, "Poster", "Road to Taller, France", and "Convent Grounds in Buglose", Copyright © 2008 by Vincent Berquez. Poems and art should not be reproduced without permission of the author. Thanks.

About the Poet: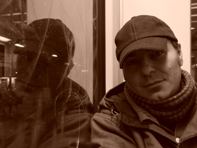 Vincent Berquez is an artist, poet, and curator who sometimes also works in Broadcasting. He has published in Britain, Europe, America and New Zealand. His work appears in various anthologies, including My Gun is Bigger Than Your Gun and A Passion For Poetry Anthology. He was requested to write a Tribute as part of Poems to the American People for the Hastings International Poetry Festival. He has also been commissioned to write a eulogy by the son of Chief Albert Nwanzi Okoluko, the Ogimma Obi of Ogwashi-Uku to commemorate the death of his father. He has been a judge for Manifold Magazine and had work read as part of Manifold Voices at Waltham Abbey. He has read his work many times, including at The Troubadour and at the Pitshanger Poets, in Ealing, and was nominated for Poet of the Year with the Forward Prize for Literature. He will be contributing to a London Voices anthology soon.
With his artwork he has shown world wide, winning first prize at the Novum Comum 88í Competition in Como, Italy. He has worked with an artís group, called Eins von Hundert, from Cologne, Germany for over 16 years. He has recently shown his work at the Lambs Conduit Festival and had a one-man show at Sacred Spaces, St John the Baptist, Westbourne Park in November and at the Foundlings Museum in May, 2008.

Archives
Search
Terms
About
Submit
Link Exchange
Links
Newsletter
Contents
Home