Vincent Berquez


A Heart-Shaped Stone

On my pillow rests
a heart-shaped stone…

the rolling waters,
strong piercing waters,
the pull and push 
of Lady Moon's desires
and Father Earth's 
noisy quarrels
gave slow accident
to the complex body's line
you'd placed carefully here.

The movement of nature
swirled without complaints
wrestled chattering pebbles,
the slate and the flint,
the shingle and shell
blended in the salty sand.

The life and death
of the fisherman's catch
ploughed the sooty darkness
for an abundant bounty
when the form was
being moulded in the depths.

You worked the beach
and picked up its reward,
indenting where my head rested
poised and profound.

Sinking into the feathers
it lies peacefully, like
a tranquil afternoon of calm waters
that you picked for me carefully. 


© 2009 Vincent Berquez



Flowers

She offers me the light of her peace
into this flickering cavern that can be life.

Sometimes there is only air to breathe,
where the filter of hope cracks through,
shifting the powerful rays illuminated
when I am not looking too hard.

She has expressed her planet of love
and the chance of walking deeply
into her mind's grass barefooted.

She loves flowers 
and breathes in their scent fully.

I am a flower to her.


© 2009 Vincent Berquez



The Generator of Love

I put together these scratches 
for your greater pleasure 
as you squeal with delight
when I read them out to you
or better, send you an email.

They serve no purpose but 
to give you a brighter countenance,
which is a great word to stick in here.

Not an electrician sparking the Earth,
illuminating our truths and fakeries,
or a plumber with his hands full
of that which we would rather not discuss,
a doctor's sinecure of hopeless results,
as he gazes into the blanched eyes
of the nearly fallen asleep,
the milkman blandly pootering 
down his designated streets, like a sop
of boredom and a pint of clichéd testosterone,
or even the snappy free newspaper givers,
always in the way with rubbish headlines
shoved into the hands of down-trodden Londoners.

But a few words roped together, mountaineers
climbing sentences of rocky crags towards a peak,
towards bright sunlight when reached will fill you  
with pleasure, the sum of them will look into my eyes
and produce the battery to generating us well.


© 2009 Vincent Berquez



About the Poet: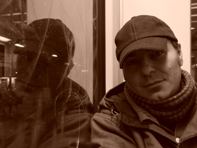 Vincent Berquez is a London –based artist/ poet. He has published in Britain, Europe, America and New Zealand. His work appears in many anthologies, collections and magazine worldwide.
He was requested to write a Tribute as part of 'Poems to the American People' for the Hastings International Poetry Festival for 9/11, read by the mayor of New York at the podium. He has also been commissioned to write a eulogy by the son of Chief Albert Nwanzi Okoluko, the Ogimma Obi of Ogwashi-Uku to commemorate the death of his father. He has been a judge many times, including for Manifold Magazine and had work read as part of Manifold Voices at Waltham Abbey. He has recited many times, including at The Troubadour and the Pitshanger Poets, in London. In 2006 his name was put forward with the Forward Prize for Literature. He recently was awarded a prize with Decanto Magazine. He is now a member of London Voices who meet monthly in London, United Kingdom.
He has been collaborating in 07/08 with a Scottish composer and US film maker to produce a song-cycle of seven of his poems for mezzo-soprano and solo piano. These are being recorded at the Royal College of Music under the directorship of the concert pianist, Julian Jacobson.
As an artist he has exhibited world wide, winning prizes, such as at the Novum Comum 88' Competition in Como, Italy. He has work with an art's group, called Eins von Hundert, from Cologne, Germany for over 16 years. He has shown his work at the Institute of Art in Chicago, US.
He also made poetry films that have been shown at various venues, including a Polish/British festival in London, Jan 07. This can be viewed on you tube, at JMIAMI577 and then 'Vertigo'.
He recently showed his paintings at the Lambs Conduit Festival, took part in a group show called Gazing on Salvation, reciting his poetry for Lent. In October he had a one-man show at Sacred Spaces Gallery. In 2008 he also had a solo show of paintings at The Foundlings Museum and his work is permanently at Enid Lawson Gallery, and will be exhibiting at the major art fairs with the gallery for 2008-2009. Vincent Berquez has a website of images for the casual viewer or any potential buyer: www.vincentberquez.com

Archives
Search
Terms
About
Submit
Link Exchange
Poetry Links
Newsletter
Contents
Home